Biotrial provides its volunteers with a convenient reloadable virtual debit card distributed electronically through a secure link via email.
Once a volunteer participates in a screening visit, Biotrial will provide a virtual ClinCard on which the screening visit and other payments will be transferred within 48 hours. Volunteers who participate in a study will get a physical ClinCard on their check-out day.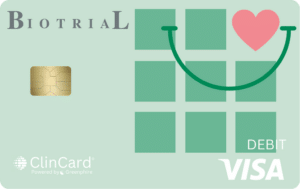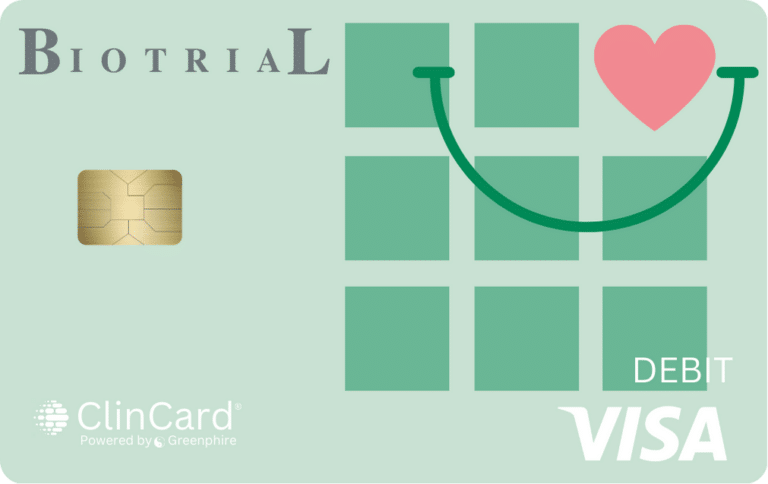 How to access your virtual Biotrial ClinCard?
At your first screening visit at Biotrial, the recruiters will ask you to sign the ClinCard ICF. After the screening visit  they will assign you a Visa virtual ClinCard. Your first ClinCard will ONLY be virtual, not physical. Biotrial will provide you with a physical Clincard ONLY if you are enrolled in the study (dosed).
You will receive the virtual card electronically via an email from no-reply@clincard.com saying, "Your Virtual ClinCard has arrived." Please check your spam folder.
Please follow the email prompts and click "Access your card." This will take you to the Biotrial ClinCard website. Your access code is the four digits of your year of birth. Also, do not forget to check "I am not a robot."
The next screen you see will have your 16-digit card number. Copy this number down, as you will need it to register your account on your digital wallet.
How to register your virtual Biotrial ClinCard?
Once you've accessed your card number, navigate to https://myclincard.mycardplace.com/cholder/welcome and follow the steps to register your account.
You will be prompted to enter your 16-digit card number and create a username and password. Please remember to check the "I am not a robot" option.
Once you've created your username and password, you'll be able to log in to your account.
You can either continue using the Virtual card for online transactions, or you may add the virtual card to your mobile wallets i.e. Apple Pay / Google Pay, and use it at merchants that accept contactless Visa payments.
You may also download the ClinCard app from either Google Play or the Apple Store and use the same Username and Password to view your account balance, change account settings, easily transfer money from your Biotrial ClinCard account to your U.S. bank account, and pay at all merchants that accept Visa contactless payments.
How to transfer your balance from the card to your United States bank account?
You will need to register a United States bank account that you own to initiate a card-to-bank transfer. To register, you will need your Bank Name, Bank Account Number, Bank Routing Number, Account Type, and Account Nickname.
Once the account is registered the bank account will appear with a "Logged" status, and a zero-dollar test transaction is initiated to validate the bank account information; if no error is received, the system will mark the bank account as "Verified," typically within 1-2 business days.
On being successfully "verified", you can initiate your transfer request. The "Amount" field will automatically be pre-populated with the full available balance and is non-editable.
The standard processing time for transfer typically takes 3-5 business days. The whole process, including bank account registration the first time, can take 4-7 business days.
How to log in to My ClinCard mobile App?
Free mobile app available in the App Store for both iPhone (Apple Store) and Android (Google Play Store). Type "My ClinCard" into the search field of the App store. Follow the prompts to download and open the App.
The first time you open the app, you will be required to enter your full 16-digit card number in the "Register Account" field and follow the prompts to create a username and password (requires you to provide a valid 16-digit card number and date of birth).
Password must contain a minimum of eight characters, including one uppercase letter, one lowercase letter, one number, and one special character.
NOTE: The same cardholder profile/ information (username and password) can be used to log in to both the website and mobile app.
* If using the My ClinCard mobile app, standard message, and data rates may apply.
How do I get cash or check my balance at an ATM?
Insert your physical card and enter your PIN (a Physical ClinCard prepaid debit card is required to use an ATM).
Select "checking" and then "withdrawal" to get cash out, or "checking" followed by "balance inquiry" to check your balance.
Enter the amount you wish to withdraw.
Call Customer Service at
1-866-952-3795
or visit
ClinCard FAQ
Want to be part of our paid research studies?
Biotrial conducts paid research studies that can be compensated from $150 to more than $15,000 per study.
This compensation is paid according to the terms specific to each study. Aside from getting paid for participating in research studies, you will get a complete health check-up for free and learn about new medicines.
Biotrial is accepting healthy volunteers — men and women over 18 in paid research participation. Our paid research studies offer a way for anyone to get involved in medical advances and help improve human health and well-being while being compensated.
If you wish to benefit from this, we invite you to complete the registration form and call us at (844) 246-8459. It will take five minutes of your time to know if you meet the criteria for our studies.
Beyond paid clinical trials, seize the chance to be of service.
Your participation in paid clinical trials goes beyond the compensation we provide, you are advancing modern medicine itself. Being a volunteer in pharmaceutical studies isn't about making money; it's about making a substantial contribution to improving and saving lives for people of today and future generations.